PRESS Gemology Sparkles
in Queensland, Australia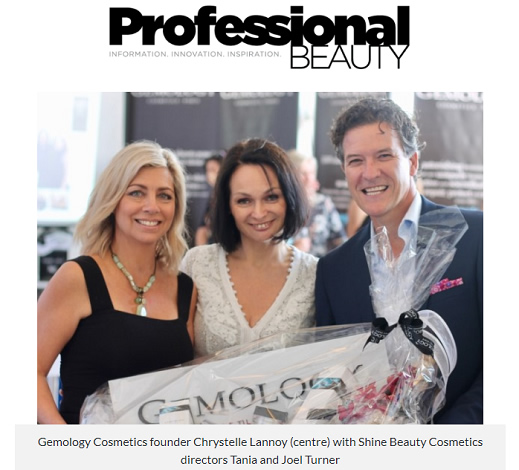 click here to see story in high res »
Professional Beauty, national beauty industry magazine - issue September 17, 2018 - author, Jenny Berich
read at professional beauty online >>
pure luxury in combination with optimal results
Twelve months after "testing" Gemology Cosmetics skincare in its six Queensland salons, Shine Beauty has begun distributing the French brand to other salons around Australia.
Joel and Tania Turner, the founders and directors of the Shine Beauty chain, discovered Gemology while looking for a new range to stock in their salons (located in Brisbane, Southport, Chermside, Caloundra, Sippy Downs and Maroochydore) at Cosmoprof Asia in 2016.
Immediately impressed with Gemology's results and their clients' responses, the couple gradually converted all their salons to Gemology only-stockists and have now begun distributing the brand.
Speaking at its official launch in Maroochydore last week, Tania said the couple decided to take on the brand as it was unique "the first skincare brand based on minerals from gemstones" - and ideal for Australian skins.
Gemology was launched in Paris in 2007 by Chrystelle Lannoy, a French skincare expert who has worked with major cosmetic brands including Peoria.
Chrystelle, who had a vision to create a skincare line based on gemstones, worked with cosmetic formulator Dr Jean Claude Bozou for over three years to develop a process to "extract natural minerals from the gemstones for use in skincare products" and create the product range.
Today Gemology's laboratories use the "liquefaction and chemical compounding" process to extract minerals (including iron, zinc, magnesium and copper) from 20 different gemstones. The minerals are then combined with active ingredients such as peptides, vitamins and natural plant botanicals to optimise their bio-available performance in over 60 retail products, 18 facial treatments and 12 body treatments.
Tania says the range offers salon clients "pure luxury in combination with optimal results".
Available in over 30 countries, Tania says the range is ideal for use in Australia.
"All the products, including the cleansers, are hydrating and each mineral targets and addresses all skin concerns that we see in our climate, from dry chilling winds in the south to the dehydrating humidity in the north.
"For example the White Pearl Complex in the brightening range dramatically minimises the appearance of pigmentation caused from too much sun exposure."
Although Shine has never distributed a cosmetic brand before, Tania is confident Gemology will be popular with salon owners, staff and their clients across Australia.
"Gemology's success in all six of our salons is proof that it will work effectively in other salons too," she says.
"Clients love the treatments and the take-home products too.
"We, like most other Gemology salons and spas around the world, are earning around 35 percent of our total revenue from our retail sales."
She says Shine will provide stockists with an extensive education program (including an initial three-day program, ongoing face-to-face training and online training 24/7).